By

Haley Hunter
Updated 08/22/2023
Any warm beverage lover knows the importance of drinking your steaming cuppa in the temperature sweet spot: after the scalding steam has eased and before the lukewarm disappointment sets in. Finishing your morning beverage before it goes lukewarm is a challenge though! That's why the promise to keep my beverages hot while simplifying my desk layout piqued my interest. First stop: the OHOM Ui Plus Self Heating Mug Set (starting at $88) and OHOM Leiph Self Heating Teapot Set ($49).
The mug and teapot's warming plates double as a wireless charger for your iPhone or AirPods (meaning fewer items in my space: clean desk, clean mind). Switching out my charging phone for a hot drink by my side without increasing the mess has helped my workspace feel sleek and cozy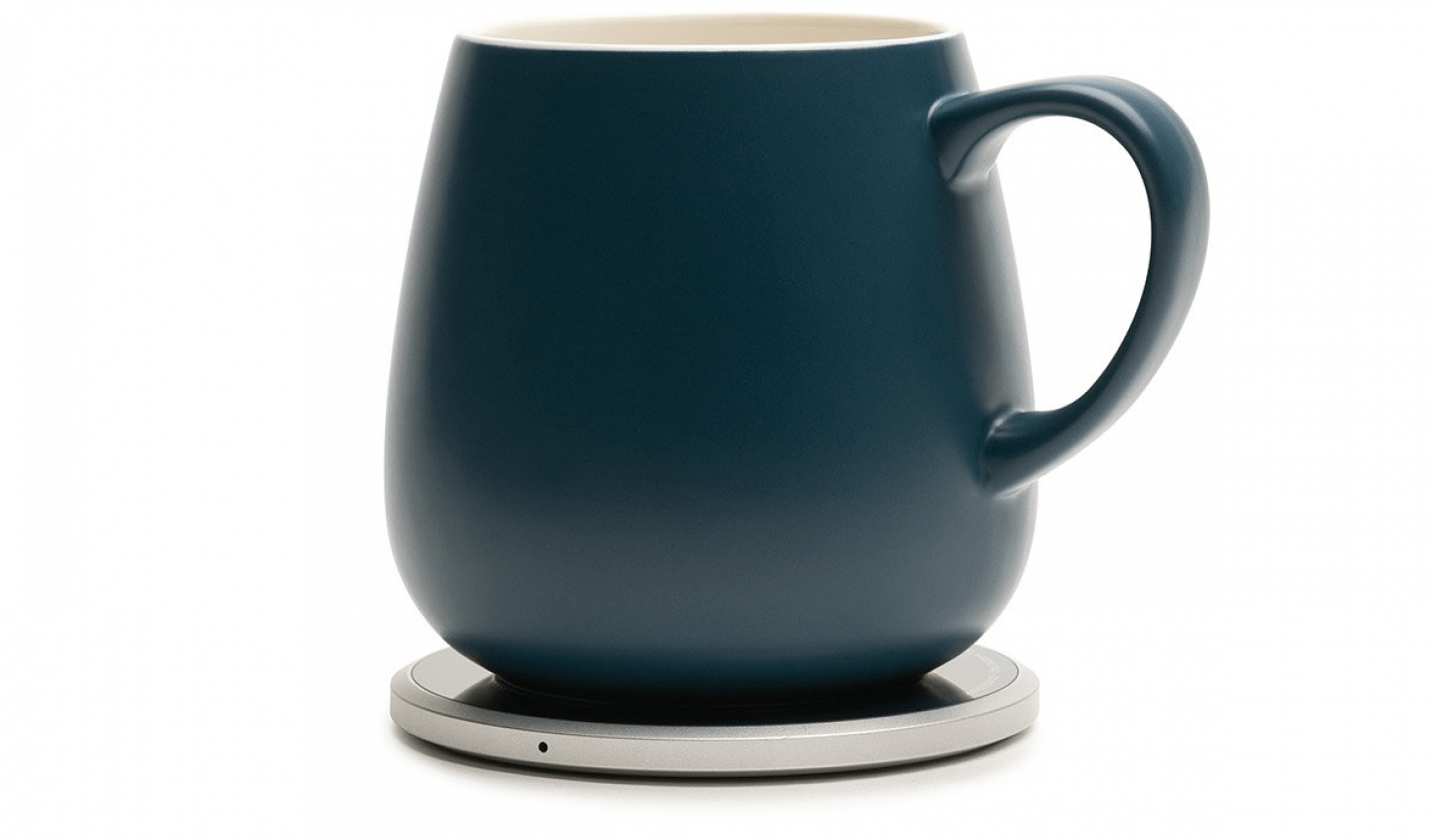 My mug holds 18 ounces of liquid, which is perfect for sustaining yourself with tea or coffee throughout a long workday. The tea I brewed stayed hot for over two hours. It went from the boiling temperature it started at to a temperature that warmed my stomach without burning my tongue.
Discover your iPhone's hidden features
Get one daily tip each day (with screenshots and clear instructions) so you can master your iPhone in just one minute a day.
OHOM keeps your drink at 130 degrees Fahrenheit, which is the sweet spot for hot drinks. When putting cold water in the mug, the heating plate is strong enough to bring the water up to a warm temperature, but not all the way to the sweet spot. It should be noted that the heating pad needs to be connected to the wall via the adapter it came with. When plugged in with a different adapter, it does not keep your drink warm (though it will still charge your iPhone).
Brewing a Pot of Self Heating Tea
Aesthetically speaking, the Leiph Teapot is a delight to use. The design is beautiful, with its simple and elegant shape. And in terms of keeping beverages hot, it did exactly as promised, just like the mug.
The Leiph Teapot is smaller than the Ui Plus, holding just 13.5 fluid ounces. The accompanying teacups are truly miniature, holding just a couple sips of your desired beverage. The teacups are perfect for cooling down a portion of your drink without sacrificing the temperature of the source. Keep a towel handy, though, as the spout drips when serving.
Pros:
• The design of each product is beautiful
• It's convenient to have a multi-use product, and keeps my desk clear
• The heating pads keep the beverages hot for a long time
Cons:
• The teapot is very small
• You can't keep your drink hot and charge your phone at the same time
• The charging pad is a little finicky—it takes a few tries to get it to connect
• The products are expensive
I absolutely love these OHOM products, and I do recommend them. After a few weeks of using these products, I have found it can be frustrating to choose between charging my phone and keeping my drink warm, but ultimately I value a clear desk and appreciate having this multi-purpose tool. The charging pad keeps my phone powered all day, just like the coffee inside the mug does for me. Additionally, I love the look of both of these products, and have been extremely satisfied with the functionality of the heating pad. A perfect addition to my desk setup!
4 Ways to Elevate Your Tea Drinking Experience
1) Read a Book
When I sit down to read, I want it to be a multi-sensory experience. Lighting a candle, grabbing a blanket, and having a cup of tea nearby helps amplify my enjoyment of an already lovely activity. Now with my OHOM mug, I can get swept up in the plot without worrying about missing the perfect temperature window. Plus, if I'm reading on my Kindle app (free), I can take a sipping break while my phone charges for the next chapters.
2) Zoom with Friends
Though the pandemic may be receding, many of my friends are still far away. Drinking a cup of tea over video chat is the perfect way to bring a special moment into everyday life. I use the Logitech C922x Pro Stream Webcam ($99.99) for Zoom dates, and I'm looking forward to adding the OHOM products to my setup.
3) Watch a Movie
Watching my favorite movies with a cup of tea is a surefire way to make me feel cared for. On its own, watching TV can so easily become a mindless, numbing experience. If I add an intentional element, like a cup of hot tea, then it once again becomes an act of self-care. Then, I can fire up the HBO Max app (from $9.99/month) to get cozy with (my personal favorite) Studio Ghibli movies.
4) Brew with MyTeaPal
MyTeaPal is a free app that covers the needs of any tea lover. With a Tea of the Day at the top of the Home screen as just one of many features, you can learn more about specific teas, keep track of the teas you've been brewing, and connect with friends to see what they're drinking. Plus, you can log your new mug and teapot in the "teaware" section and select your OHOM product later when brewing your next cup.