By

Olena Kagui
Updated 09/07/2023
I am that dog owner that refers to her beloved pets as furbabies, and I would do anything to keep them safe, healthy, and happy. Smart dog collars or pet-tracking gadgets are a great way to have peace of mind because you know exactly where your pet is at all times. While some dog collars focus on tracking, others do so much more!

The Fi Smart Dog Collar is basically like an Apple Watch for dogs, except it does even more! Instead of just tracking your dog's location, it also counts steps, records time spent sleeping, and can send location alerts to your phone. In addition to this, it has a light feature for nighttime walks, and it can even be used with a doggy social media! This connects you with local dogs and owners, letting you share, like, and comment on each other's pet photos.
One of my favorite features of the SERIES 3 Fi collar is the impressive battery life that can be as long as three months, depending on your use. I use all the exciting features, so I can't wait months before charges, but I still only charge once every two or three weeks. Plus, it only takes three hours to charge the collar completely.
Discover your iPhone's hidden features
Get one daily tip each day (with screenshots and clear instructions) so you can master your iPhone in just one minute a day.
Not only is the Fi collar an amazing way to keep your dog safe from getting lost while blending into the collar, but it also helps you track your dog's health. Just like an Apple Watch, it takes your dog's age and breed(s) into consideration and recommends a daily activity level. Plus, you can compare how your dog is doing to other dogs of the same breed, age, or even location. You can do all this using the easy-to-navigate Fi - GPS Dog Tracker app (free).
The SERIES 3 Fi collar also happens to be waterproof, which is great because my dog loves to go swimming and chase sticks on the beach. The one downside to the Fi collar is that there is a monthly subscription, which is becoming the new normal with tech devices. However, this means that you can purchase a Fi collar with a month-to-month subscription for just $44. To get the cheapest deal on the Fi collar, you have to pay $336 for a two-year subscription, including the free collar. You can also save money if you get multiple collars for your pack.
The actual Fi tracker is available in two widths, depending on the length of the collar. Larger dogs with bigger necks can handle the 1-inch wide device, while smaller dogs can wear a 3/4th-inch option. My only real complaint about Fi collars is that the fabric part of the collar is only available in four plain colors: yellow, blue, pink, and gray. Luckily, third-party companies like Stunt Puppy are here to save the day.
While the SERIES 3 Fi Smart Dog Collar may be functional, it is quite boring looking, and I really wanted to add some pizzazz! You can't use just any collar with the Fi because it has a special magnetic locking mechanism. Luckily, Stunt Puppy has an entire line of what they call Fi-Ready collars. Stunt Puppy has Fi-Ready collars in all sorts of colors, designs, and patterns. Some even have glow-in-dark reflective strips for extra safety! They are made using BioThane®, which is super durable and waterproof. 
I love the fun design options that can help you personalize your dog's smart collar. I picked the Fi-Ready Jill Kittock Tennis Balls Everyday Collar for my tennis-ball-obsessed doggo, but I may have to get another because the garbage, branch manager, undies, and fair food designs are pretty irresistible as well.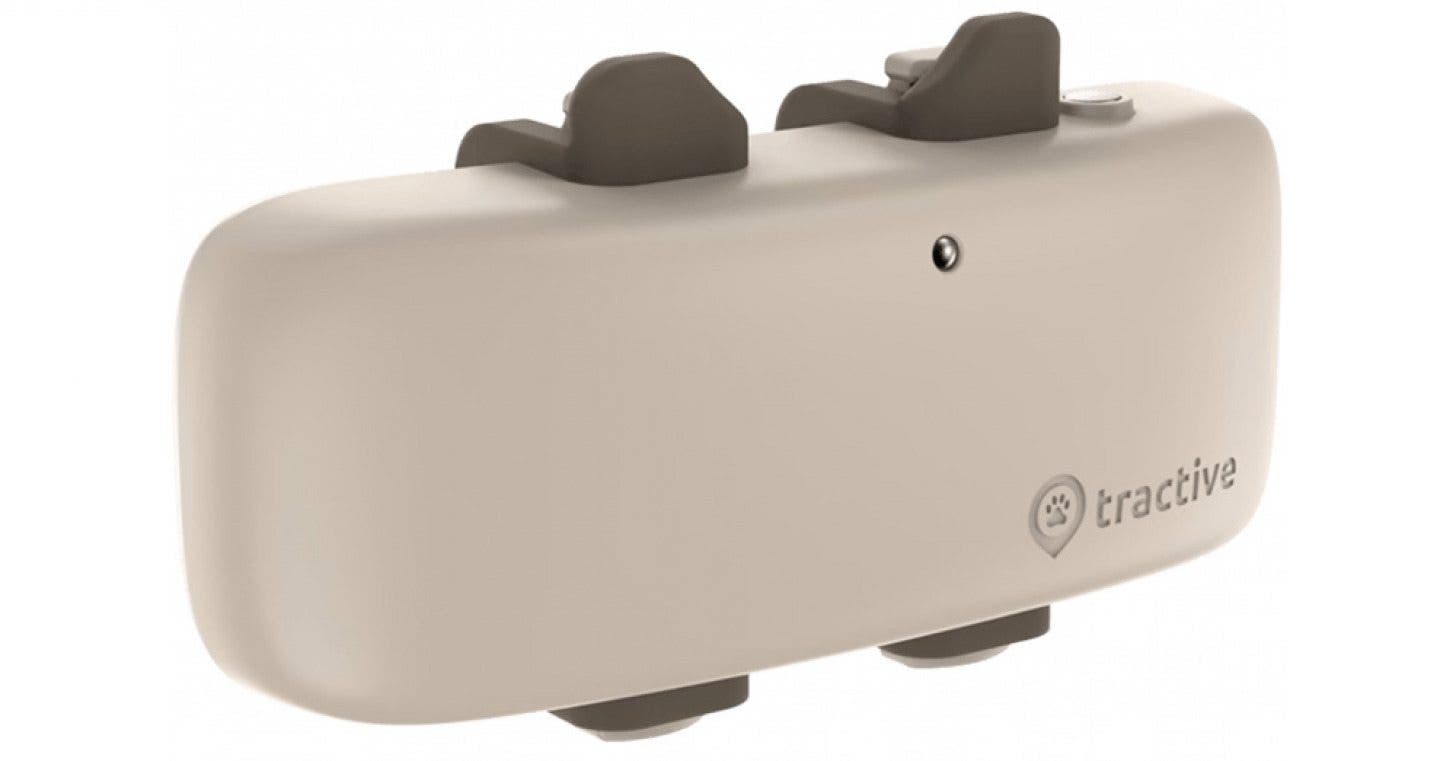 If you are looking for a more affordable tracker for a pet or any size, the Tractive DOG 4 is an amazing option. It is available in a small size, perfect for dogs and cats as small as 9 pounds, or an XL version for dogs over 40 pounds. While they are a tad bulky looking, they are really lightweight, and it doesn't bother my 70-pound Pittie or my 10-pound Chihuahua.
The Tractive DOG 4 has a battery life of up to 10 days, offers accurate tracking, and the device is waterproof and can withstand your dog's favorite adventures. I love that I can rely on it in any situation and don't have to worry about it, especially since I set up my home as a Power Saving Zone so that the tracker isn't wasting battery while my dogs are sleeping next to me on the couch.
The free Tractive GPS for Dogs and Cats app is super easy to use, and it lets you monitor your pet in real-time no matter where they are—the range is unlimited! It even offers a virtual fence feature that alerts you if your pet steps out of the bounds you assigned—this can be used at your home or on camping trips or other adventures.
You do need a subscription to get the best features of the Tractive DOG 4. You can pick between the basic plan for as little as $6/month if you pay for two years up front or the premium plan for $5/month if you pay for five years up front. While both plans are great because they allow unlimited range due to the built-in SIM, the premium plan offers family sharing, worldwide coverage, 365-day location history, and the ability to export GPS data. I also like the idea of paying for it upfront and forgetting about it for the next five years.
Not everyone wants the extra bells and whistles, not to mention subscription memberships. For those who just want to keep track of their pets and nothing else, an AirTag can be a sufficient pet tracking option. If you go this route, as many pet owners do, keep in mind that the AirTag is only as water resistant as your iPhone, so you'll need a tough waterproof case like the TagVault ($12.95) to keep the AirTag safe.
Another important thing to consider if you want to track your pet using an AirTag is that it doesn't work well in more rural areas. AirTags need iPhones or Apple products nearby for any AirTag to be located. So if you live in a busy city, an AirTag works great, but if your closest neighbor is a farm away, it may be harder to track your pet accurately.
One other downfall of the AirTag is that you can only share its location with family members or friends if you have iOS 17 or later. I like having the peace of mind of being able to share my pet's location with my family members and dog walker, pet sitter, or anyone else who may help take care of my pets.
A huge perk of using an AirTag to track your pet is the battery life. As long as you can make sure your AirTag is safe from the elements and securely attached to your dog, you don't need to worry about battery life because an AirTag can last about a year and will alert you in advance if the battery is low. I do recommend using extra-strength keyrings, Outus Titanium ($11), for example, because my biggest concern when tracking a pet with AirTags is that AirTags can fall off and get lost easily.
There are many different ways to track your pets! Fancy dog and cat trackers that double as activity monitors are my favorite because they give you so much information and compare to Apple Watches for humans. However, these are not only pricey, but they also require regular charging and care. Using AirTags for iPhone users or third-party alternatives like Tile ($29.99+) is less secure and accurate, in my opinion, but it is also a lot more affordable and more hands-off. Whatever option you pick, it feels great to take steps to keep our furbabies safe, healthy, and happy!